Bakine oblande +3 recepta
Bakine oblande
(najjednostavnije)
400 gr šećera,1 margarin, 100 gr čokolade kuvati na tihoj vatri do potpunog otapanja.Ohladiti, pa u to dodati smesu od :
4 jajeta umutiti posebno žumance i posebno belance,
sjediniti, pa u to dodati 100 gr. oraha i 100 gr. mlevenog keksa. Ko voli, slobodno može da doda seckane žele bombone, kokos, seckane orahe, bademe, lešnike, suvo grožđe…
Filovati oblande, pokriti krpom ili folijom, pa pritisnuti nečim težim odozgo.
Crno-zute oblande
– CRNI FIL:
8 belanaca
12 kašika šećera
300gr mlevene plazme
100gr. mlevenih oraha
2 kašike kakaoa
– ŽUTI FIL:
8 žumanaca
200gr.šećera u prahu
2 vanil šećera
1 margarin
Čokoladne bananice
1. 800gr šećera sipati u 2.5dl vode i staviti 10 min. da vri
2. kad se ohladi, u to dodati 3 kesice želatina rastopljenog u vodi
3. sve mututi mikserom 10 minuta i kad pobeli sasvim i zgusne se dodati 1 bočicu arome od banane. Podmazati pleh (ili neku činiju u kojoj želite da stoje bananice) uljem pa sipati smesu.
4. kad se smesa ohladi, preko nje preliti čokoladnu glazuru – 4 kašike vode, kašičica šećera, kašičica ulja i 100gr čokolade za kuvanje.
5. staviti u frižider da se lepo stegne.
Mamin rolat od oblandi sa bananicima
1 pakovanje oblandi
600gr secera
1 margarin
300gr mlevenog keksa
250gr mlevenih oraha
20 cokoladnih bananica
Prokuvati 2 čaše vode sa 600gr šećera, dodati 1 margarin, pa kad se sve to lepo istopi, dodati keks i orahe. Svaki list staviti na toplu, vlažnu (ne mokru!) krpu, premazivati filom, pa na ivicu svake poređati bananice, i savijati u rolate.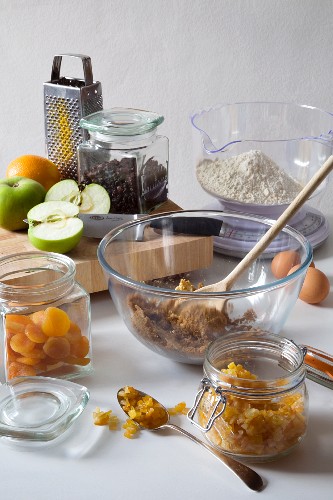 recept: Misha 79